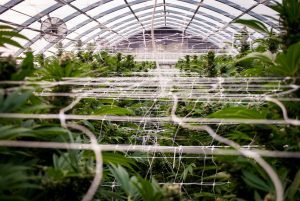 Washington criminal defense attorneys understand that people sometimes face drug charges because they were in a vehicle or a home where drugs were present.  This can be particularly true of the owner or resident of the property where the drugs were found.  Although a landlord generally cannot be held liable for a tenant's criminal actions just because he or she failed to evict the tenant, a Washington appeals court recently upheld a conviction of a woman whose boyfriend allegedly had a marijuana grow operation in her home.
According to the appeals court's opinion, the defendant lived in a home owned by her stepmother with no formal lease agreement.  She shared the home with her children, her boyfriend, and her boyfriend's brother.  The police executed a search warrant and found 27 marijuana plants in the back yard, marijuana in the kitchen, and drying marijuana and glass pipes in the basement.  The defendant was charged with manufacturing marijuana.  She testified that the marijuana was her boyfriend's and denied any involvement with the marijuana grow.  She testified she had asked him to stop, but he did not do so.  She admitted it was her choice to allow her boyfriend to remain at the residence.
The jury instruction on the definition of manufacture stated it is "the direct or indirect production, preparation, propagation or processing of any controlled substance."  The defendant's attorney objected to the instruction, contending that it was vague and misleading.  The state argued the defendant acted as a de facto landlord and was therefore responsible for providing a location for the grow operation.  The state argued the defendant had dominion and control over the property and therefore had direct or indirect involvement in manufacturing marijuana. The jury asked the court to define "indirect" during its deliberations, and the court referred them to the jury instructions.  The jury convicted the defendant.